Creatine Monohydrate
Regular price
HK$450.00
Sale price
HK$450.00
Unit price
per
SALE
SOLD OUT
KEY BENEFITS
Creatine increases physical performance
Ideal for all sports and exercise
Easy to use everyday supplement
Suitable for vegetarians and vegans
PRODUCT OVERVIEW
Power your latest fitness regime with our Creatine Monohydrate – the ultimate supplement for all sports and exercise.
Easily mixable and vegan-friendly, this naturally occurring substance is known to increase physical performance during high intensity exercise (1) – making it the perfect daily supplement for taking your training to the next level.
What is creatine? A popular supplement among fitness enthusiasts, creatine is a natural compound found in muscle cells that helps to increase the body's performance, particularly during successive bursts of high-intensity exercise. Formed of three amino acids, it's the subject of over 1,000 research studies and one of the safest fitness supplements on the market.

Want to take your performance to the next level? Why not couple our Creatine Monohydrate with our Essential Amino Acids supplement for a completely plant-based way to power up your workouts.
Discover more products from our Fitness range and read more learn more about Creatine on Creatine 101: Maximising Your Muscle Gains with Creatine and find out some of our top tips on Muscle Building Supplements and Tips
🏷️Use Code: BEST to save 20% on our best sellers including Creatine Monohydrate!
WHAT IS CREATINE MONOHYDRATE?
Creatine is a natural compound found in our muscle cells that helps produce energy during high-intensity exercise. Creatine monohydrate is the most common form of creatine, consisting of creatine bonded with a water molecule. A popular supplement among athletes and bodybuilders, it is one of the most heavily studied forms of creatine and has been shown to increase performance during exercise (1).
HOW AND WHEN DO I TAKE?

Add 1 scoop (5g) of powder with 250ml of water and consume daily.

The most common way to take creatine is to consume 3-5 grams per day. While creatine can be taken at any time of the day, some research suggests that taking it immediately before or after exercise may be the most effective for improving performance. It is recommended to take creatine daily, regardless of whether you are in a calorie surplus or deficit. It is also important to stay hydrated when taking creatine, s it can cause water retention in the muscles.
INGREDIENTS

Creatine Monohydrate (100%).
NUTRITIONAL INFORMATION

Pack size: 500g

Serving size: 1 scoop (5g)

| | |
| --- | --- |
| | Per Daily Serving |
| Creatine Monohydrate | 5g |
WHY CHOOSE NATURECAN?

Naturecan offers an extensive and exclusive range of quality products and supplements. With websites live in over 40 countries worldwide, we use our global reach to deliver the health benefits of our products to a growing customer base.

All of Naturecan's products are created using industry-leading technology and sustainable production methods. In addition, our products have undergone rigorous testing to ensure product quality, customer safety and supply chain transparency.

Creatine increases physical performance in successive bursts of short-term, high intensity exercise. Beneficial effect is obtained with a daily intake of 3g of creatine.
Share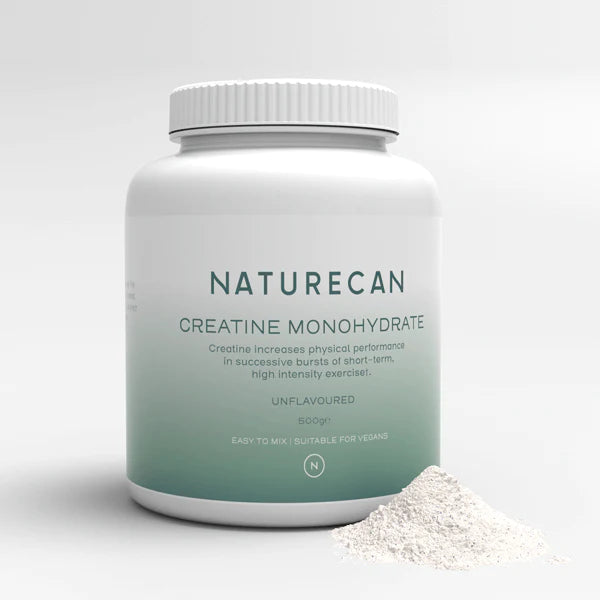 Creatine Monohydrate Reviews