Activated Charcoal
Regular price
HK$110.00
Sale price
HK$99.00
Unit price
per
SALE
SOLD OUT
KEY BENEFITS
2g Activated Charcoal per serving
Convenient high-strength capsules
Activated Charcoal reduces flatulence after eating
Manages unwanted bloating and discomfort
Vegan-friendly
PRODUCT OVERVIEW
Sourced from oxygenated coconut, our Activated Charcoal Capsules may help to reduce flatulence after eating (1), helping you manage unwanted bloating and discomfort.
These convenient, high-strength activated charcoal capsules are best used 1g 30 minutes before and after eating a meal.
WHAT IS ACTIVATED CHARCOAL?
Charcoal has traditionally been used to reduce intestinal gas and bloating after eating (1). Activated charcoal is made by grinding charcoal into a fine powder and "activating" it by exposing it to oxygen and high temperatures. This changes its chemical structure, and it becomes permeated with thousands of tiny pores that can absorb chemicals, toxins and other substances. For this reason, activated charcoal has become a popular ingredient in various products, ranging from toothpaste and shampoo to face scrubs and water filters.
View more products from our Supplements Collection.
HOW AND WHEN TO TAKE ACTIVATED CHARCOAL

Simply take 6 activate charcoal capsules daily. 1g (3 capsules) which should be taken at least 30 minutes before and 1g (3 capsules) shortly after the meal.

Advice: Do not exceed the stated recommended daily use. This product should not be used as a substitute for a varied, balanced diet. Store in cool, dry place away from direct sunlight. Keep out of the reach of young children.
INGREDIENTS

Activated Charcoal (Coconut Source), HPMC (Hydroxypropyl Methylcellulose).
NUTRITIONAL INFORMATION

Serving size: 6 capsules

Per pack: 90 capsules

| | Per Daily Serving |
| --- | --- |
| Activated charcoal | 2g |
WHY CHOOSE NATURECAN'S ACTIVATED CHARCOAL?

Naturecan offers an extensive and exclusive range of quality products and supplements. With websites live in over 40 countries worldwide, we use our global reach to deliver the health benefits of our products to a growing customer base.

All of Naturecan's products are created using industry-leading technology and sustainable production methods. In addition, our products have undergone rigorous testing to ensure product quality, customer safety and supply chain transparency.

Contributes to reducing excessive flatulence after eating. Beneficial effect is obtained with 1g which should be taken at least 30 minutes before and 1g shortly after the meal.
Share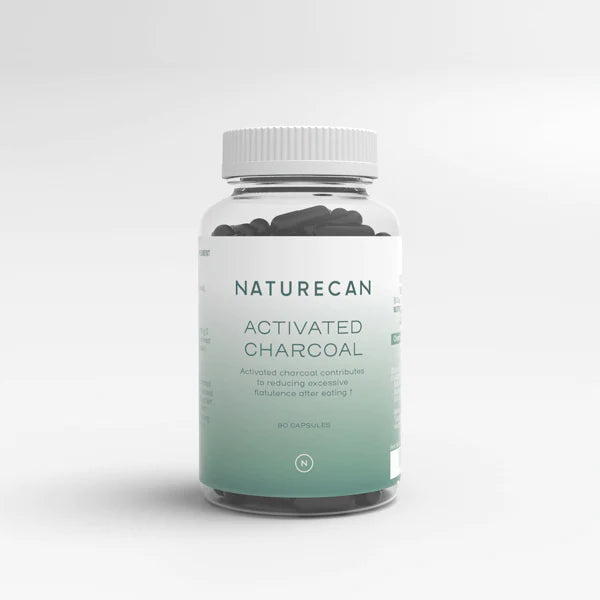 Activated Charcoal Reviews