Essential Amino Acids (EAA)
Regular price
HK$480.00
Sale price
HK$450.00
Unit price
per
SALE
SOLD OUT
KEY BENEFITS
Includes 8 essential amino acids
Low in sugar and fat-free
Protein contributes to growth and maintenance of muscle mass
Suitable for vegetarians and vegans
PRODUCT OVERVIEW
The building blocks of protein, low in sugar and completely fat-free, our Essential Amino Acids (EAAs) are a great way to stay refreshed and deliver the protein you need to grow and maintain muscle (1) – all while keeping your training on track.
Supplementing essential amino acids is important because they can't be produced by your body, and can only be gained from food. Get the levels you need to support training in a convenient, cost-effective and delicious way with our zingy lemon iced tea flavour EAAs.
Suitable for vegans, choose a convenient and alternative option for guaranteeing the amino acids your fitness journey demands – perfect if you're on a plant-based diet.
Looking to change up your fitness routine? Why not try our HMB Tablets and Creatine Monohydrate from our Fitness range, too! Also, check out some of our top tips on muscle building and weight management here: Muscle Building Supplements and Tips & Weight Management Tips
Learn more about Essential Amino Acids (EAA) and why they are good for you in our blog post: Why Are EAAs Good?
🏷️Use Code: BEST to save 20% on our best sellers including Essential Amino Acids (EAA)!
ESSENTIAL AMINO ACIDS (EAA) BENEFITS
Amino acids are the building blocks of protein. When protein is consumed as food or a supplement, it's broken down into individual amino acids, which are then used to help the body to grow and function. EAAs are amino acids that can't be produced by the body, and must be obtained from foods that are complete protein sources, such as eggs, meat, soy and buckwheat. 
Essential amino acids offer multiple health benefits, particularly if taken in concentrated doses as an EAA supplement.
Our premium EAA powder contains the protein key for building and maintaining muscle (1) and keeping bones in good condition (2). Low in sugar and fat-free, it's a convenient way to get the amino acids you need while keeping your training on track.
HOW AND WHEN DO I TAKE EAA?

Mix 2 scoops (15g) of EAA supplement with 500ml of water and shake well. Perfect anytime of the day to stay refreshed and keep your amino acid levels topped up throughout the day.
INGREDIENTS

Essential Amino Acid Powder Blend (L-Leucine, L-Lysine Hydrochloride, L-Valine, L-Isoleucine, L-Phenylalanine, L-Threonine, L-Methionine, L-Tryptophan), Acid (Citric Acid), Inulin, Flavouring, Sweeteners (Sucralose, Acesulfame K), Beetroot Juice Powder.
NUTRITIONAL INFORMATION

Pack size: 450g

Serving size: 2 Scoops (15g) / 30 Servings.

| | | |
| --- | --- | --- |
| | Per 100g | Per Serving (15g) |
| Energy | 1490kJ / 355kcal | 223kJ/53kcal |
| Fat | 0g | 0g |
| - of which saturates | 0g | 0g |
| Carbohydrate | 3.5g | 0.5g |
| - of which sugars | 1.6g | 0.3g |
| Fibre | 5.8g | 0.9g |
| Protein | 73g | 11g |
| Salt | 0.02g | <0.01g |

| | | |
| --- | --- | --- |
| Amino Acid Profile | Per 100g | Per 15g |
| L-Leucine | 20g | 3g |
| L-Lysine | 12.7g | 1.9g |
| L-Threonine | 6g | 0.9g |
| L-Valine | 10g | 1.5g |
| L-Isoleucine | 10g | 1.5g |
| L-Phenylalanine | 9.3g | 1.4g |
| L-Methionine | 4g | 0.6g |
| L-Tryptophan | 1.3g | 0.2g |
WHY CHOOSE NATURECAN?

Naturecan offers an exclusive and extensive range of high quality health supplements. All of our products are created using industry-leading technology and undergo rigorous testing practices with third parties in order to ensure product quality, customer safety and supply chain transparency.

Protein contributes to the growth and maintenance of muscle mass.
Protein contributes to the maintenance of normal bones.
Share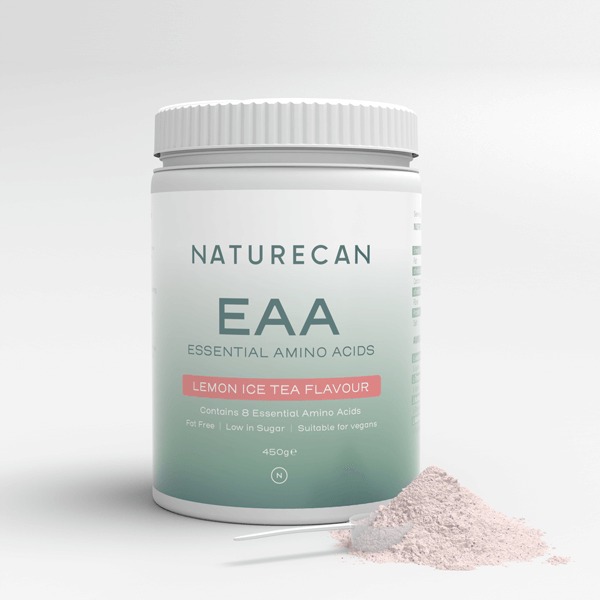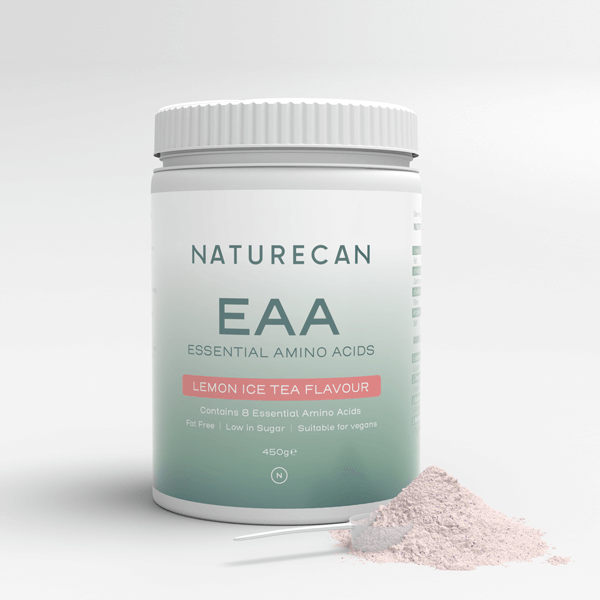 Essential Amino Acids (EAA) Reviews