Lion's Mane Gummies
Regular price
Sale price
HK$249.00
Unit price
per
SALE
SOLD OUT
KEY BENEFITS
Premium Lion's Mane Mushroom (Fruiting Body)
1,500mg Lion's Mane per serving
Vegan-friendly
Natural Blueberry & Raspberry Flavoured
Easy to take gummies
PRODUCT OVERVIEW
Introducing our brand new Lion's Mane Gummies at Naturecan Fitness Hong Kong! If you want to care for your general well-being, we have you covered with our Lion's Mane Supplement to support you this season.
For those wondering "What is Lion's Mane?" - Lion's Mane is a functional mushroom, where the fruiting bodies contain nootropic substances, erinacines and hericenones respectively. They are large, white mushrooms that resemble a lion's mane as they grow.
Furthermore, hericenones and erinacines, two unique chemicals found in Lion's Mane Mushrooms, have been found to potentially help improve mental clarity.
Looking for Vitamins and Minerals to support your overall health? We have you covered at Naturecan with Vitamin D3 to support your immunity, and Active Curcumin with Vitamin D3 to help maintain normal bones and normal muscle function. We also have Mushroom Complex Tablets that contains 7 different mushrooms in one tablet.
HOW TO TAKE LION'S MANE MUSHROOM GUMMIES?

Simply consume 3 Lion's Mane Gummies per day, at whatever time suits you best as a treat.
WHO ARE LION'S MANE MUSHROOM GUMMIES FOR?

Lion's Mane Gummies are perfect for adult men and women who want to improve their general health. Studies have found that Lion's Mane can stimulate the formation of brain cells, among many other impressive potential benefits when taken over a period of time.
INGREDIENTS

Sucrose, Glucose Syrup, Lion's Mane Fruiting Body Mushroom Powder 2:1 (Hericium erinaceus), Sweetener (Erythritol), Water, Pectin, Acidity Regulators (Citric Acid, Sodium Citrate), Colour (Anthocyanins), Natural Flavourings.
NUTRITIONAL INFORMATION

Serving size: 3 Gummies

Per pack: 60 gummies

| | |
| --- | --- |
| | Per Serving |
| Lion's Mane Mushroom Fruiting Body Powder | 1,500mg |
WHY CHOOSE NATURECAN FITNESS HONG KONG?

Naturecan offers an extensive and exclusive range of quality products and supplements. With websites live in over 40 countries worldwide, we use our global reach to deliver the health benefits of our products to a growing customer base.

All of Naturecan's products are created using industry-leading technology and sustainable production methods. In addition, our products have undergone rigorous testing to ensure product quality, customer safety and supply chain transparency.
Share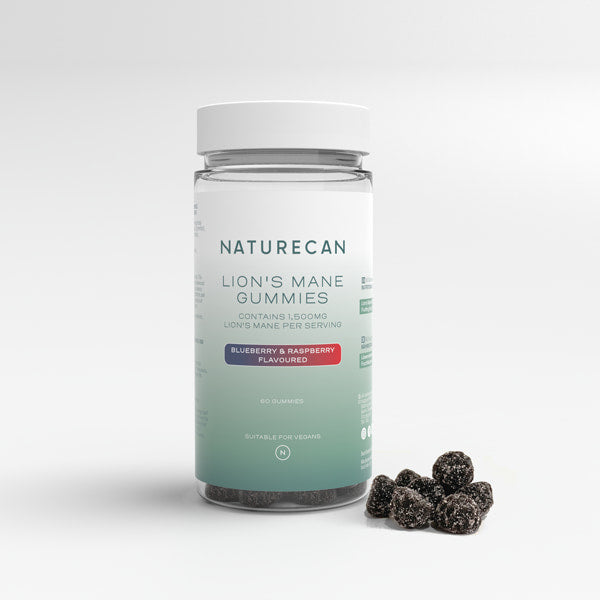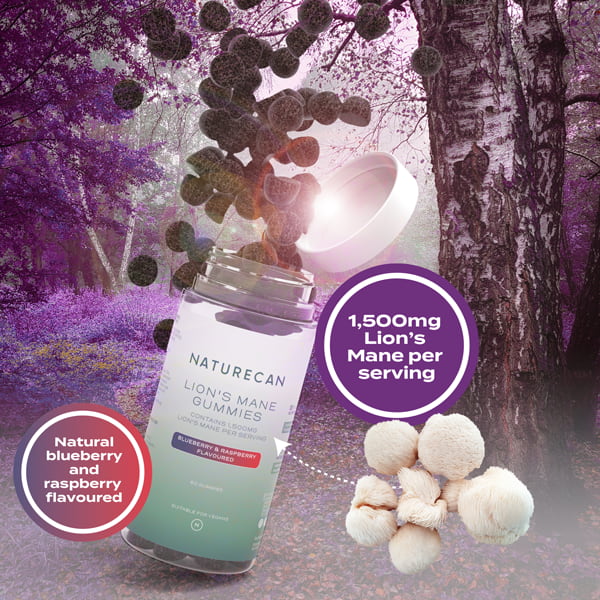 Lion's Mane Gummies Reviews