Vitamin D3 5,000 IU
Regular price
HK$120.00
Sale price
HK$120.00
Unit price
per
SALE
SOLD OUT
KEY BENEFITS
125µg vitamin D3 per softgel
Vitamin D supports the immune system
Vitamin D also supports bone health and maintains normal muscle function and blood calcium levels

Convenient everyday supplement

PRODUCT OVERVIEW
With 125µg of vitamin D3 per softgel, our Vitamin D3 supplement supports your immune system (1) to keep you fighting fit, as well as helping bones and muscles stay in great condition (2,3) – a must for everyday health and recovery after intense exercise.
Vitamin D is often referred to as the "sunshine vitamin", as it's best sourced from the sun's rays. However, it can also be found in fatty fish and seafood, mushrooms, egg yolks, and supplements like our Vitamin D3.
Our convenient softgels give you your must-needed daily vitamin D3 requirements without the fuss, so supplementing fits your schedule.
Our Vitamin D3 also goes well with our Vitamin B12 tablets, formulated to further support your immune system, fight fatigue and keep you mentally sharp (5,6,7).
View more products from our Vitamins and Minerals range.
HOW AND WHEN TO TAKE VITAMIN D3

Simply take 1 Vitamin D3 softgel, ideally with a meal, every single day.
WHY SHOULD I TAKE VITAMIN D3?

Vitamin D is an essential nutrient that offers numerous health benefits. Also called the "sunshine vitamin", it is known to support the immune system, keep bones healthy and maintain normal muscle function (1,2,3).

It is estimated that 1 billion people worldwide are deficient in vitamin D (8). Common symptoms of deficiency include fatigue, low mood, bone loss, weight gain, bone or muscle pain, and an increased susceptibility to illness and infection.

Sunlight is the best source of vitamin D, so there is a higher risk of deficiency in the winter months, particularly in northern regions. If you don't live in a sunny country, vitamin D3 supplements are the best way to keep your levels up.
INGREDIENTS

Virgin Olive Oil
Vitamin D3
Softgel capsule (gelatine, glycerine, purified water)
NUTRITIONAL INFORMATION

Serving size: 1 softgel

Servings per bottle: 60

| | Per Daily Serving | %NRV |
| --- | --- | --- |
| Vitamin D | 125 µg | 2500% |

*NRV - Nutrient Reference Value
WHY CHOOSE NATURECAN FITNESS HONG KONG

Naturecan offers an extensive and exclusive range of quality products and supplements. With websites live in over 40 countries worldwide, we use our global reach to deliver the health benefits of our products to a growing customer base.

All of Naturecan's products are created using industry-leading technology and sustainable production methods. In addition, our products have undergone rigorous testing to ensure product quality, customer safety and supply chain transparency.

Vitamin D contributes to normal function of the immune system.
Vitamin D contributes to the maintenance of normal bones.
Vitamin D contributes to the maintenance of normal muscle function.
Vitamin D contributes to normal blood calcium levels.
Vitamin B12 contributes to the normal function of the immune system.
Vitamin B12 contributes to the reduction of tiredness and fatigue.
Vitamin B12 contributes to normal psychological function.
Share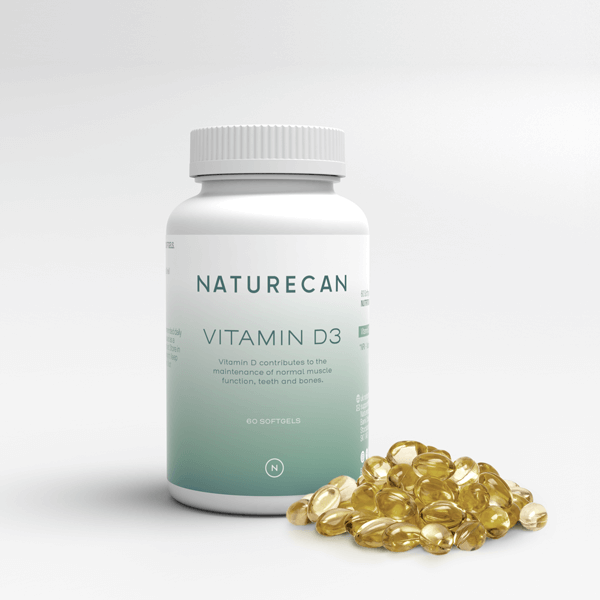 Vitamin D3 5,000 IU Reviews